Golden Medallion Transmuted by Joannes Wenceslaus Seiler of Reinburg
This medallion weighs more than 7 kilograms (15.5 pounds), and can be seen at the Münzkabinett of the Kunsthistorisches Museum in Vienna, Austria. This is the most prominent object in the Münzkabinett; at the same time, it is one of the largest medals ever.
The story of how Joannes Wenceslaus Seiler got into alchemy and performed transmutations is found in Johann Joachim Becher's Magnalia Naturae, 1680. It is probably based on what Wenceslaus told him when the two of them met at the palace of the emperor in Vienna. Here is a summary:
Joannes Wenceslaus Seiler of Reinburg (1648-1681) was originally an Augustinian monk in Bruna, Moravia, but he wasn't happy in the monastery. There he befriended an old friar who was a Cabalist, and a lover of Magic. One day when the church was damaged by a storm, they found a hidden box that contained papers that gave directions on how to multiply the red powder contained in four smaller boxes. They performed an experiment and cast some of the powder upon melted pewter which solidified into gold. After that first experiment, the old friar kept the boxes with powder for himself, in his own room, much to the dismay of Wenceslaus. At the death of the old friar, Wenceslaus was able to remove the boxes before the room was sealed up by the other monks, who were unaware of the strange find. After that Wenceslaus befriended another young friar and told him his secret; making some more gold and selling it outside the monastery to a goldsmith. But Wenceslaus had an appetite for women and had a woman (most likely a prostitute) in men's cloths visit him repeatedly until he got caught and locked up. His fellow monk contacted Prince Charles of Lichtenstein, who had an interest in alchemy, and his steward managed to free him from the monastery. After showing the Prince the art of transmutation, he went, with his fellow friar, to Vienna. There he found the favors of a Count Schlick, but suspecting foul play. They made their escape from his residence. Then they contacted count Parma who got the Emperor interested. In the presence of Count Parma, with Father Spies and Dr. Becher, as two witnesses, he performed a transmutation of tin. But the count extorted half the tincture from him, and after some more troubles, this half landed in the hands of the emperor. Wenceslaus obtained the emperor's protection, and he performed transmutations for the emperor. But he was leading a life of debauchery and involvement with prostitutes, and he lost all his riches. Then he started selling fake Projection Powder for a lot of money. He also made some counterfeit coins. But the emperor bailed him out and bestowed him the Title of Baron Seyler of Seylerburgh, and afterwards made him Hereditary Master of the Mint of Bohemia, sending him away from his Court to Prague.
The medallion below was made to commemorate the transmutation he performed in the presence of Emperor Leopold I on November 15th (Saint Leopold's day), 1677.
This large and heavy medallion is of oval form, measures 30 cm (11.8") by 37 cm (14.6"), and has a weight of 7.200 kilogram (15.9 pound).
One side shows a central portrait of Emperor Leopold I of Austria and his third wife, Empress Eleonore Magdalena von Pfalz-Neuburg, surrounded in three concentric circles by real and fictitious ancestors, beginning with Pharamend, King of the Franks, and ending with his father, Ferdinand III (rein 1637–1657).
The other side has a Latin text in 21 lines, which reads:
To the Holiest, mightiest and most invincible Roman Emperor Leopold I, the thorough investigator of the secrets of nature, dedicates and offers this genuine sample of real and complete metallic transmutation, as a humble memorial sign of the annual feast day accompanied by the wish of blessings of any kind, a most humble servant of His Dignity, Highness and Majesty, most loyal Joannes Wenceslaus of Reinburg in the year of Christ 1677, on Saint Leopold's day, the surname of the former pious margrave of Austria, now the most gracious patron of the highest Austrian house.
Note that the medallion was made to commemorate the event. It is not mentioned that it was made from alchemical gold. Henry Carrington Bolton remarks:
I examined it in person in August, 1888, at the Imperial Cabinet of Coins, Vienna. It is of elaborate workmanship but decidedly brassy in color, and is said to have a specific gravity of only 12.67, that of gold being 19.3 (kg/m3). Two small notches, one in the upper edge and one in the lower, show that it has been cut into for examination. (Contributions of alchemy to numismatics, 1890, page 22).
The most likely process was that the medal was made of an alloy of silver and gold, which, when dipped into a nitric acid solution, would dissolve the silver content at the surface, leaving behind the gold content. The Microanalytical Institute of the Vienna Institute of Technology performed an analysis in 1930, showing a content of approximately 43.18 % silver, 47.56 % gold and 7.56% copper.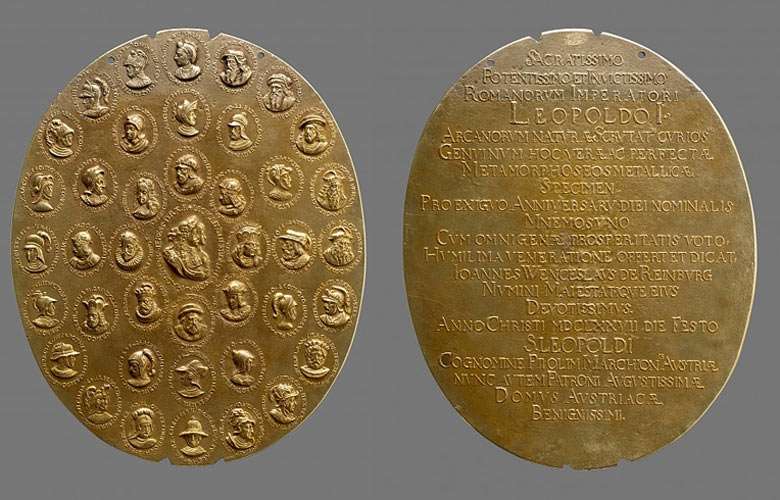 Image from Kunsthistorisches Museum Wien, Münzkabinett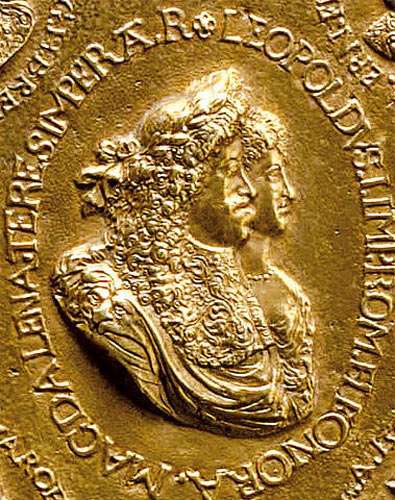 detail from the center: central portrait of Emperor Leopold I of Austria and his third wife, Empress Eleonore Magdalena von Pfalz-Neuburg