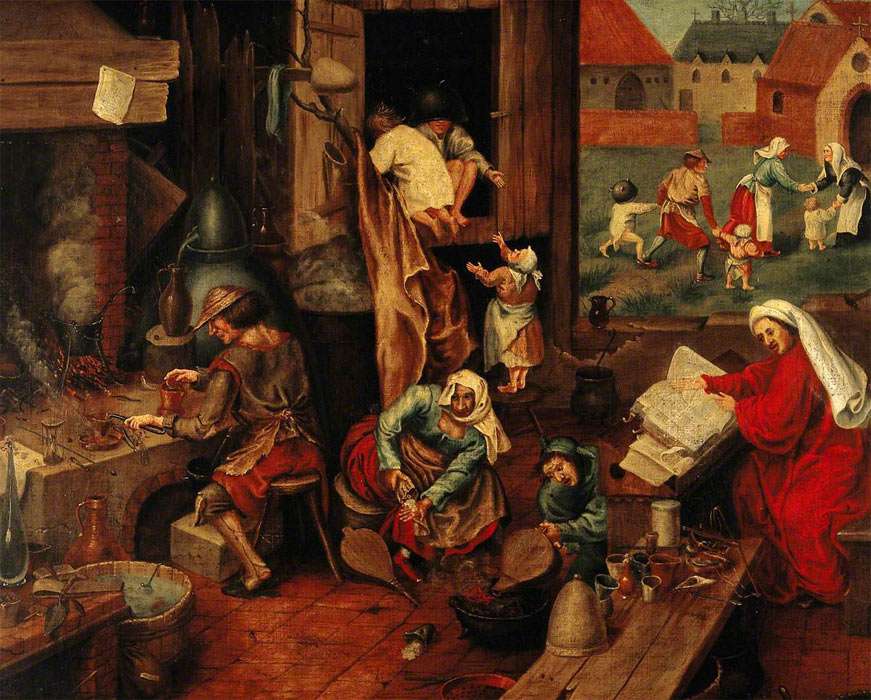 The Alchemist, after Pieter Bruegel the elder (c.1525–1569)
An alchemist, sitting on a wooden tripod, is trying to make gold. He has an oven, a distilling apparatus, some vessels and crucibles. It is a rather simple laboratory. The figure on the right is reading a book, but draws out attention to the scene in the middle. There is a fool, who is squeezing air from a bellows onto coals in a brazier. The alchemist's wife sits next to the fool and displays her empty purse, a sign that her husband has squandered all that they had in his alchemical quest. In the outdoors we see the alchemists and his wife and children being welcomed at the poorhouse, their future to be.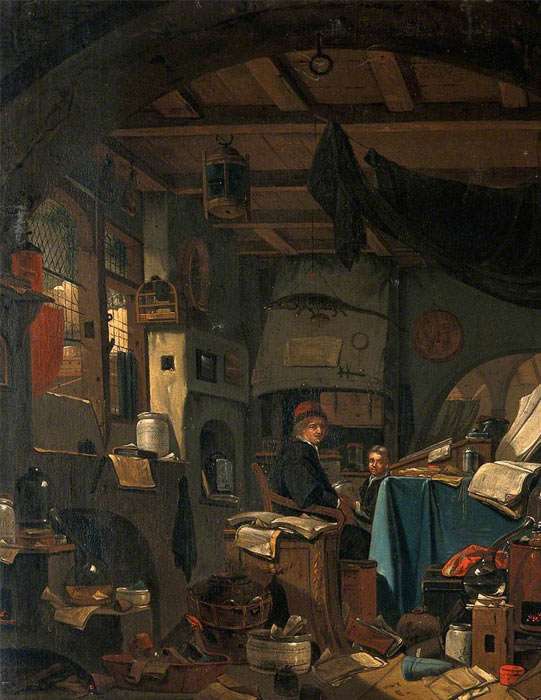 Interior with an Alchemist, by Thomas Wyck (1616–1677)
Thomas Wyck was a Dutch painter who also spent time in Italy and England. He excelled in Italianate paintings of shipping and seaports, populated with many figures, and very frequently odd characters such as alchemists and misers. He made several paintings of alchemists in their rooms/laboratories. They are always dark and very cluttered and disorganized. It is obvious that he did not have a good opinion about alchemists, maybe because he did indeed visit several of those misguided alchemists on his travels. I choose this painting of his because the alchemists is looking around his cluttered room with a bewildered look on his face, having gone nowhere with his alchemical work.
Interior with an Alchemist, by Matthieu van Helmont (1623–1679)
Although he has several books and three assistants, his laboratory is a mess, with glass vessels and other stuff lying around. The alchemist, certainly not rich, because of his poor clothing, is scratching his head and can't figure out what is written in his book.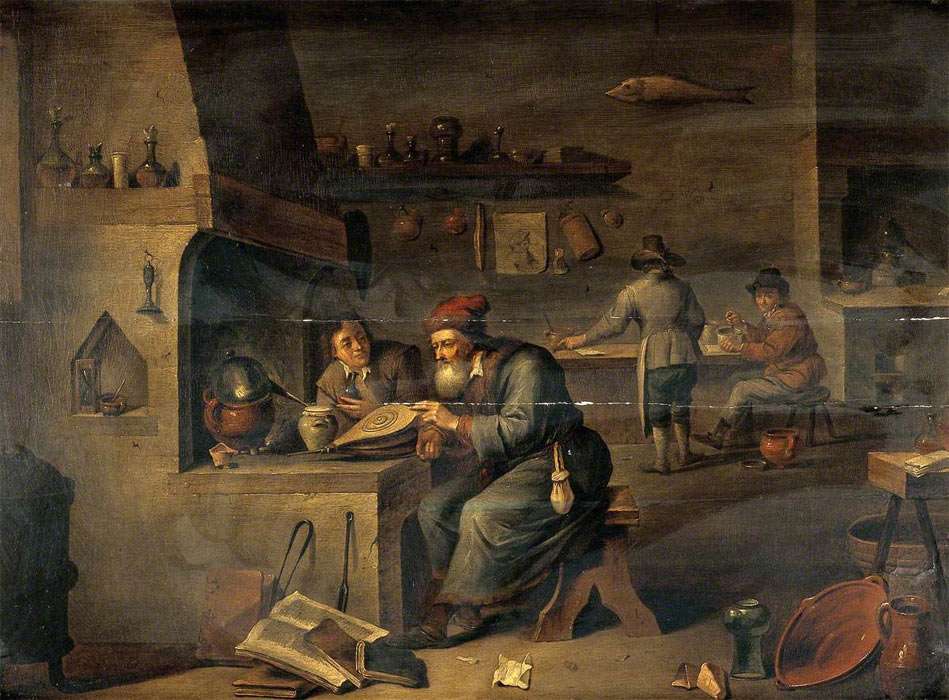 An alchemist in his Laboratory, by a follower of David Teniers II (1610–1690)
The alchemist is blowing the fire of his little oven. Although he seems wealthy by his clothes and a money bag on his waist, and he has three helpers, it looks like he is deluding himself. The presence of the little oven and the few books and scarcity of other alchemical apparatus points to the limitations of his finances, and he probably is going to run himself into ruin.
There are many paintings that depict this scene, in all its variations, by different painters.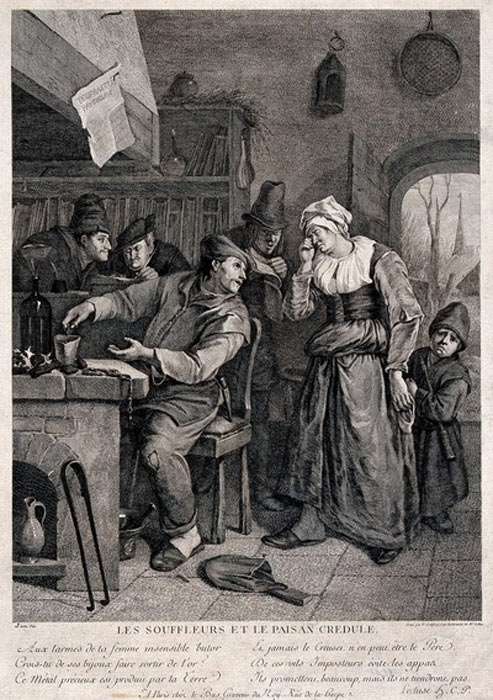 F. Godefroy after J. Steen, 1626
An engraving showing the alchemist trying to explain to his weeping wife and unhappy child that is trying to make them rich. Two man in the back are laughing at him. The French text reads:
The puffers and the credulous peasant. To the tears of your bitter wife who does not care for you / Do you think gold will come out of her jewels? / This precious metal is produced by the earth. // And the crucible can never be the father of it. / Of these quick impostors avoid the charms / They promise a lot, but they will not keep their word ; Lecluse H.C.P.; J. Steen pint. ; Engraved by F. Godefroy, edited by Mr. Le Bas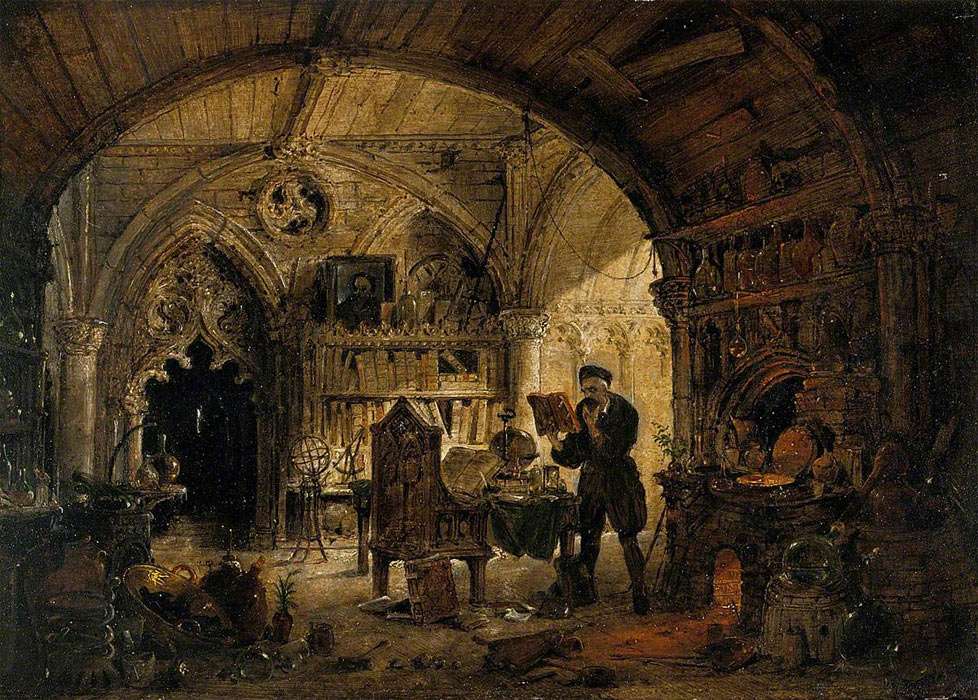 James Nasmyth (1808–1890)
It looks that this alchemist's laboratory is in a dilapidated corner of a church or cathedral. The wood on the ceiling is breaking apart. There is all kinds of stuff lying around on the floor. There is a bookcase in the back, with many books. Although he studied a lot , his expression is one of puzzlement, his hand to his chin emphasized this. There is the typical world globe, and a celestial sphere. The total impression of this painting is that after all those years of studying he hasn't figured it out yet. This scene is typical for the 19th century, when alchemy was looked upon as mere superstition.
An Alchemist in his Laboratory, by Eugène Isabey (1803–1886)
Half of his laboratory is in darkness. Everything is in disarray. Several books on the floor amidst glass vessels and pottery. The alchemist looks like he just can't figure out why his labors amount to nothing.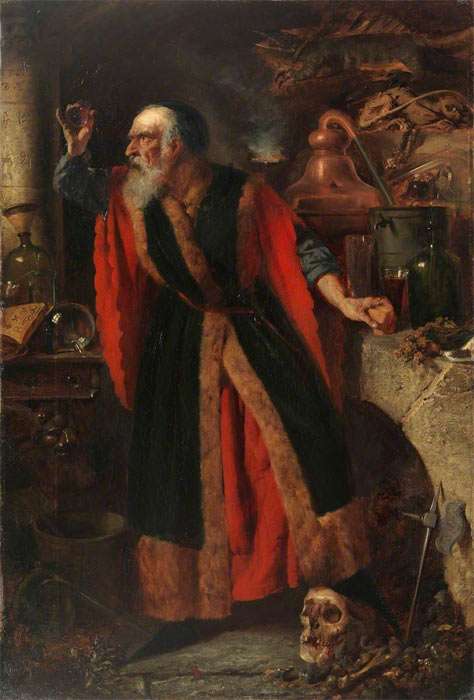 An Alchemist, by Edward Charles Barnes (1830–1890)
An old man, still preparing alchemical concoctions without much success, as his face shows worry and frustration. The human skull, bones and battle axe certainly give a negative feeling to the image. Notice the stuffed crocodile. In the past centuries, crocodiles were often hanged in apothecaries. So this might suggest that this alchemist is trying to make medicines.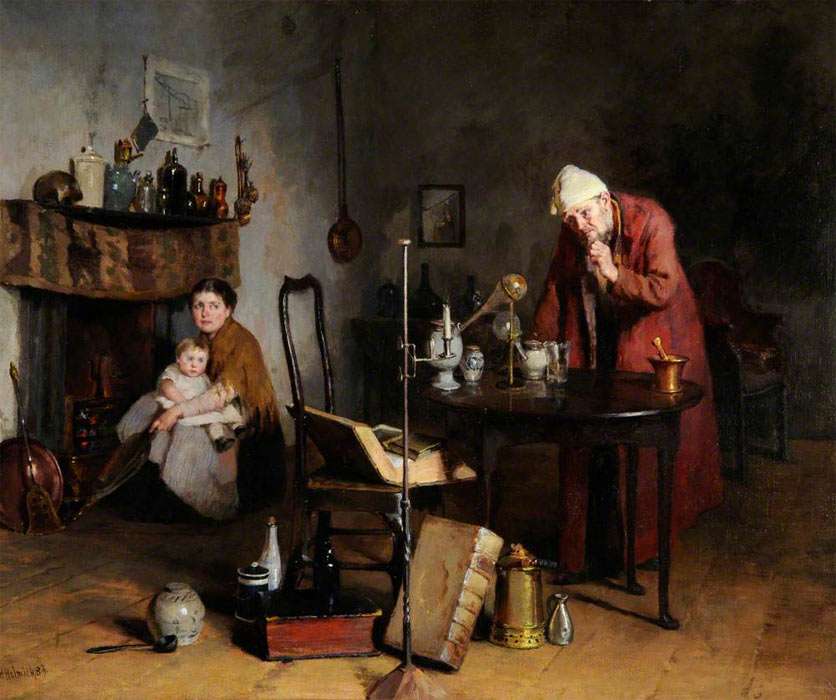 The Alchemist, by Howard Helmick (1845–1907)
Typical for the 19th century's view on alchemy, we have a man who has caused ruin on his family by pursuing the art of alchemy, but not getting any results.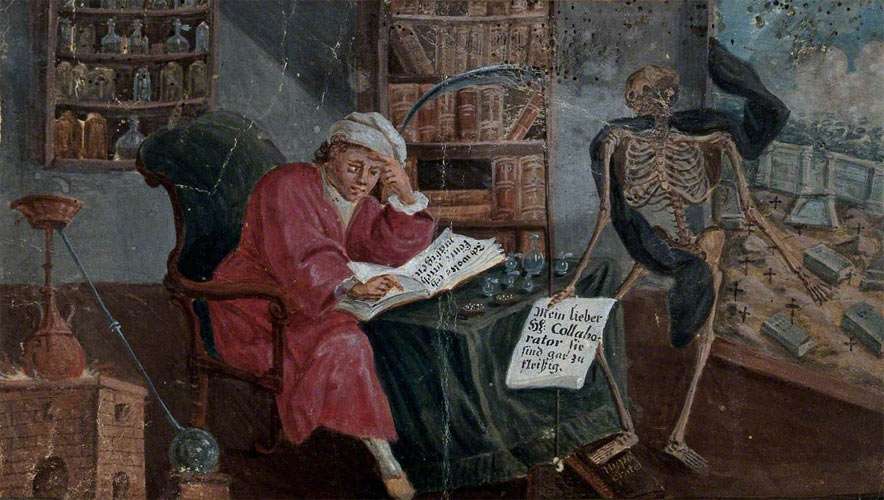 Unknown Artist
A young man, in his night gown and sleeping hat, still trying to figure out the alchemical secrets. The text in his book reads: Ich wolte ich könte mich mässigen (I want to be more moderate). The skeleton, with graveyard behind him, holds a paper with the text Mein lieber Hr. Collaborator sie sind gar zu fleissig (My dear Mr. Collaborator you are too busy.)
It is obvious that he is overworked and is on his way to the graveyard. The bookcase behind in with many books on its shelves show that he has read a lot.