In this story, the being was not seen as coming out of the water, but its appearance does suggest this. Below I will give you my interpretation of this really bizarre sighting.
This happened about 5 years ago and it massively creeped me out and I tried to forget about it. I never spoke about it to anyone who wasn't there with me, and I have only ever relived it whilst speaking to my friends about it who were there. One evening me and about 5 of my friends went to the beach. It was dark and very cold so we lit a little bonfire where the sand meets the yellow, dead grass. We took safety measure to ensure the fire wouldn't spread before I get pulled up on it. It's about 11pm and we're getting ready to disappear back into our cars and go home. In the distance, where the sea is (the tide was out a considerable amount) I noticed a flashing white light. At first I thought it was an oil rig, or a small ship of some sort so I let it slide. We were all talking around the fire when suddenly the white light was still there, flashing again, but seemed to appear that little bit brighter. For some reason I was filled with a feeling of dread and fear, and I felt very very uncomfortable. I was at the back of the circle, so I was the only one directly facing the sea hence why I was the first to notice. I told my friends that there seems to be a flashing light in the distance and that it's getting closer, and they all turned around and agreed. We decided to stay and wait because it could perhaps be a ship passing by... 30 minutes later and this flashing light is moving in a way that's relative to walking. As every footstep happens, the light would dip down. Then when the trailing leg is lifted up again, the light would move up. At this point I could just about make out a humanoid figure... we stood around the fire absolutely gob smacked and speechless, and also waiting to fight or flight. There were 6 of us, all males, so you can imagine the testosterone building up awaiting to defend ourselves. Now the weird thing is that this humanoid creature walked straight past us, probably 3 meters away, and didn't even turn its head. It appeared to look like it was wearing an old deep sea diving suit holding a lantern in one hand. It walked straight past us and we heard the metal clinging and it disappeared over the sand dunes. We all looked at one another, confused and scared and decided to follow. We couldn't see it again nor were there any cars parked in the car parking space or around the area. We were freaked out and could not possibly conclude who, what and why they were present
Source: Reddit
The image the link refers to: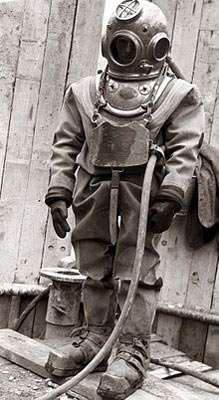 My interpretation of this story: this sighting of dressed up humanoid (the term used by the witness, probably because it was so bizarre) is full of strangeness and contradictions, just like the sightings of ufonauts/aliens when they step out of their vehicles. Nothing makes sense. This is purposeful so.
It's night, it's dark, and the witnesses are on a deserted beach. They first see a light in the distance, and they first assume it was on the water and thus possibly from a ship. When the man shows up with his diving costume, the impression is given that he came out of the water. After all he has a diving suit on. It is all about giving a strong impression on their consciousness. The diving suit is an old version that was used for marine salvage, civil engineering, pearl shell diving and other commercial diving work, and similar naval diving applications. The helmet is made of metal, and it has a breathing hose to supply fresh air from the surface. There is also an umbilical cord for telephone communication and electric supply for lights. The hose and the cord are connected to the boat or ship at the surface. The entire suit is very heavy and bulky. Under water the diver could walk normally, but at the surface his movement are very limited. Because of all of this, a diver needs at least one assistant to help him dress, to go through several safety checks, and to monitor various functions during the dive.
In other words, you are not going to find a lone diver in such a specialized suit, coming out of the ocean, walking across the beach, at night(!). One holding a lantern? What does he need that for? And, nobody else is around. Not to mention that one does not need such a diving suit at the shallow waters of a beach.
The whole thing is just a mismatch of somebody that is out of touch with the technological development of our time, the misplaced setting of a specialized dive, and the ludicrous adding touch of an old lantern unusable underwater and insufficient lighting for any kind of work at night. It seems more the work of an entity that in some past decade came across some diving event, and used this image to create a holographic manifestation. In its mind it makes sense that a human being would come out of the water in a diving suit, not realizing that time has passed and so did the diving suits, also not realizing that this diving suit is never used at beaches. The lantern would make sense, to this being, because a man needs to see where he walks in the dark. It also does not realize that the diving suit is always connected with a surface ship through the air supply hose and cables.
Of course, then there is the question: why would such an entity manifest itself in such an image and walk so close to the witnesses to be clearly noticed? That is question we can ask in so many UFO/alien sightings, and other so-called cryptic beings.