MAJOR ARCANA:
Traditional titles WITH A FEW EXCEPTIONS as follows:
5. The Initiate,
9. The Guide,
12. the Unconscious
13. Transformation,
15. Illusion,
20. Awakening,
21. The Universe.
Also, Justice is 8 and Strength is 11, Waite changed them to fit his view of astrology, but in tarot decks before him they were as I have them, look at the Oswald Wirth tarot deck, for instance.)

MINOR ARCANA:
Complete titles: For example "Queen of Cups" NO MORE astrological zodiac titles on the courts, in spite of what old reviews elsewhere might say.
---
For more information about the creation of this deck go to The Story of the Illuminated Tarot .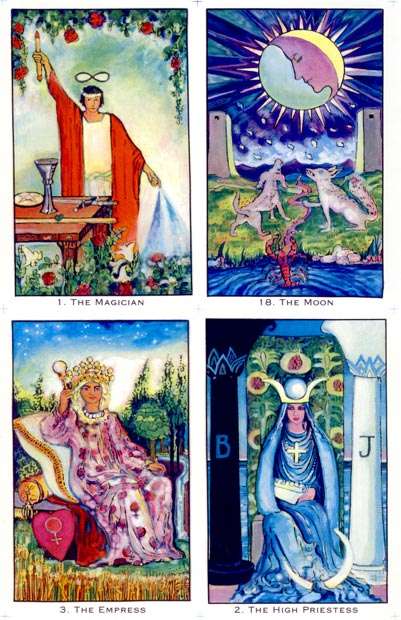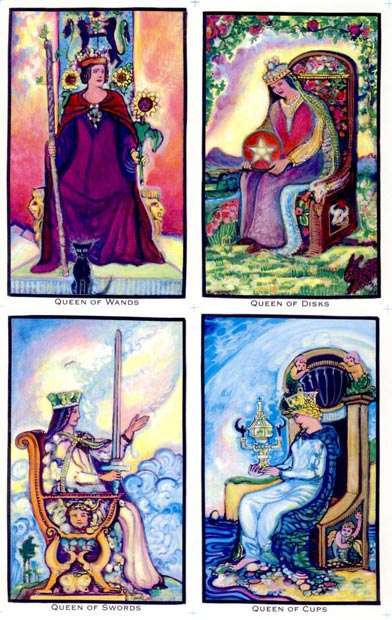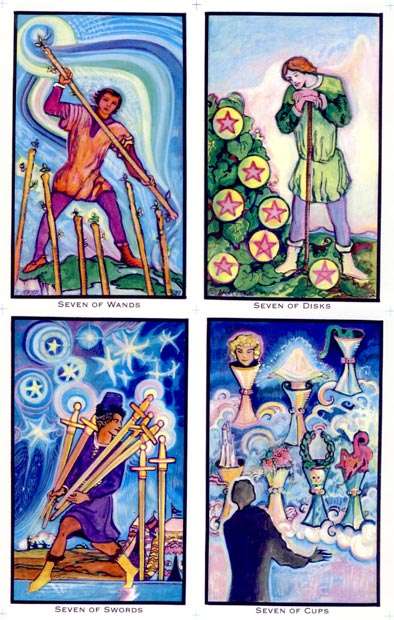 Full 78 card deck, with an extra signed and dated card. Pouch included, tell me your favorite colors and a few choices for the cover card from my extras.
Choice of colors for the backs on the large size only. For medium and smaller sizes please inquire as to what is available.
Choice of four sizes, large, medium, travel and pocket.
Durable, water resistant clear smooth lamination on both sides, rounded corners.

---
POCKET SIZE: 1 3/4 X 2 5/8" 4.4 X 6.6 mm
TRAVEL SIZE: 2 X 3 1/4" 5 X 8.3 mm
MEDIUM SIZE: 4 X 2 5/8" 10x 6.6mm
LARGE SIZE: 3 1/4 X 5 1/8" 13 x 8.3 mm

POCKET SIZE: $ 39 plus shipping
NEW TRAVEL SIZE!! $42 plus shipping

MEDIUM SIZE:$69 plus shipping.

LARGE SIZE: $86 plus shipping.
---

GLITTER DECKS
From 2009 up to 2014 I was making special decks hand painted with glitter and iridescent paints. I am NOT PRESENTLY MAKING THEM. They are very labor intensive and I just had to take a serious break from all that fine work. If I do any more in the future they will be posted on my Divine Sparks of Light page.

All prices are in US dollars and payments must also be in US dollars, USD.
If you want to order deck, first send us an email to confirm availably and shipping cost, for that we need your zip code (USA) or country location. sun19@earthlink.net
PayPal is required for all orders outside the USA. we accept both PayPal and checks for USA orders. You can NOT order directly from our site. I will send you the invoice of PayPal after the order is confirmed by personal emails.
I always combine shipping on multiple item orders if possible. Shipping in the USA is by priority mail with insurance. whenever possible I use flat rate shipping if I can, and add insurance. Due to security policies of Paypal for packages sent outside the USA, all must have insurance and tracking and the only way to get that is by Express Mail. It is expensive, I use flat rate if possible which is currently $59.50. You do get reliable and fast service with that option.
---
Happy Customers:
Hello!
I received the pouch yesterday & the cards today...they are gorgeous!!
Each card is like a piece of art!! I almost want to display them in a frame!!
I love the blending of the colors, and how they change with the light...also the smaller sparkles look perfect! They just add extra depth to the layering of color!!
I could not have asked for a more beautiful set of cards made just for me!! And they arrived on my birthday!! Oh the pouch is perfect as well!
Thank you so very much Carol!!
Can you tell how much I love them?
Jennifer
---
Your choice of backs (only for large size decks, ask me what is available for other sizes):
Blue Snow
Blue Spirals
Gold Spirals
Pink Snow Stars
Periwinkle Stars
Spring Green Stars
Aqua
Light purple