back to Illuminated Tarot all versions
ELEMENTAL VISIONS has been transformed and now is ELEMENTAL RAINBOWS
ELEMENTAL RAINBOWS
The cards all have colored borders to align with the elements. The major arcana as the archetypal source is the aetheric element, and is violet. Fire-Wands is red, Earth-Disks is green, Air-Swords is blue and Water-Cups is rose pink.
Email me if interested. Medium and large sizes only. Special sets with hand painted backs, glitter, iridescent and fluorescent will be available as I create them and posted on the Divine Sparks page.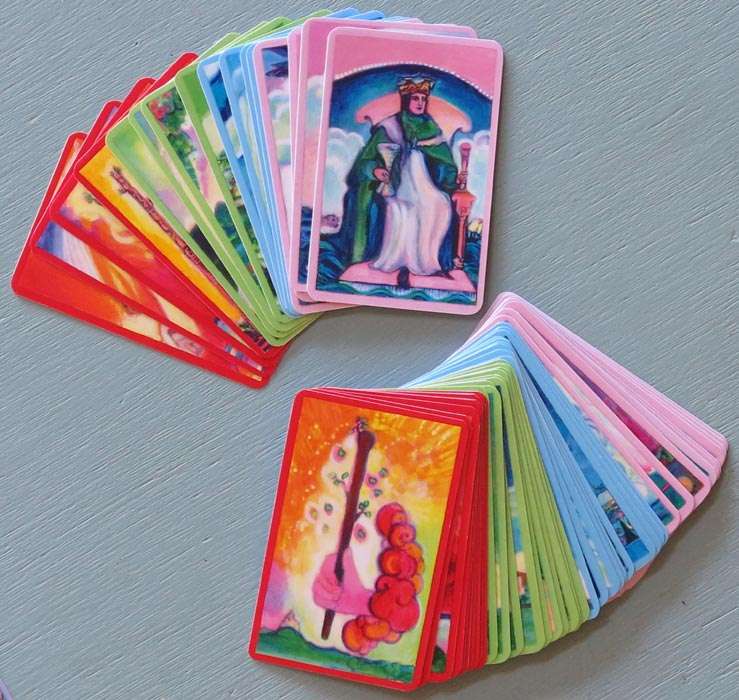 Thee are two extra cards in the Major Arcana, a Magician and an Empress. One can be used as the cover card on the pouch that I will make for you, the other can be the card I sign. Or you can just let them be as they are and remain in he deck.
The coloring is based on what is called the "Elemental Dignities, and taken from traditional magic.

In this deck Wands, fire, have red and fire colors. Pentacles or Disks are earth and emphasize greens. Swords, element air, have blue and Cups the water element are pink expressing emotional energy. The major arcana is of the Aether element, and it is light purples. Red Green and Blue are primary colors in light , not pigment. Rose (pink) actually is a fourth primary color, it acts differently than a light red. A very very distilled red becomes yellow. so oranges , gold shades, and yellows are also in the fire cards.



MEDIUM SIZE: $ 69

LARGE SIZE: $150

please inquire as to shipping cost




If you want to order deck, first send an email to confirm availably and shipping cost, for that we need your zip code (USA) or country. sun19@earthlink.net



ELEMENTAL VISIONS
Here is the previous setup of this deck with white borders and titles. I still have a few decks like this remaining, one medium and three large, contact me if interested. When they are gone I cannot make any more like this.