All the Versions of the Illuminated Tarot:
Original Version Illuminated Tarot
This is the first version painted by Carol Herzer in 1988-9.

The Illuminated Tarot, in any and all versions is exclusively available here, from the artist, and will not be found for sale anywhere else.

---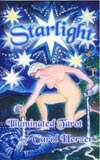 Starlight Illuminated Tarot
NEW BORDERLESS VERSION !!!
The brilliant powerful play of light and dark, star filled skies, the galactic dance of life, a deeply meditative, inspiring and uplifting vision. Of all the alternate versions, this version is closer to the Original Version, but the skies have been deepened, and stars and energy added.
---
Elemental Visions Illuminated Tarot
The Illuminated Tarot with color emphasis on the elements. Five elements are included: Major Arcana=aether-purple, Wands=fire-red-orange gold, Disks (Pentacles)= earth-green, Swords=Air-blue, Cups=Water (emotions)-Pink.

---
Crystal Fire Illuminated Tarot
The Illuminated Tarot seen through a magical vision of fire and ice. Delicate crystal fire formations dance and play, an electric ice, a crystalline vision of fire. Strong reds and gold are balanced by deep blues and purple shades.
---
Deep Crystal Illuminated Tarot
The Illuminated Tarot totally transformed; calming, cool, shades and shadows with luminous light shining through, ice, snow, and crystal blues. Both BORDERLESS and with titles are available.
---
Dark Crystal Rose Illuminated Tarot
This deck is in the process of transformation. I am still involved in the process of creation with it, and will post decks that are available, or you can ask about it.
---
Deep Shadows Illuminated Tarot
This is a borderless variation of the Dark Crystal Illuminated, with very subtle, de-saturated colors.
REGULAR DECKS
Regular Pocket decks: $39
Regular Medium decks: $ 69
Regular Large Decks: $ 86
---

Please email me first at sun19@earthlink.net . When you email also tell me your zip code or country so I can determine the shipping cost.
I accept PayPal, log on to their site to pay, my id there is sun19@earthlink.net and the name on the account is Dirk Gillabel. We also accept personal checks, but ONLY for USA customers. All others must use PayPal.
A PayPal invoice can be sent to you on your request. However, direct payment from the PayPal website is possible. You can NOT pay directly from my web site, Soul Guidance.
Uninsured shipping is less expensive. However it is at your own risk, we are not responsible for packages that are lost or damaged.
---