What is the difference between living and dead bodies? It is electromagnetism. All cells have an electromagnetic potential (EM). A healthy cell is one that has its highest EM potential. When its EM potential goes down, it becomes weak and diseased. Then pathogenic microbes come by which feed of the diseased cells. EM fields interact with living cells, and beings, and can modulate their functions for healing or for creating disease.
Water is a large component of cells and living beings, about 75%. Water is readily affected by EM fields as water itself can be magnetized, and its properties changed.
Water is necessary for life to exists. Enzymes, which are basic for numerous chemical reactions in the body, don't work in the absence of water.
Water possesses particular properties that cannot be found in other materials and that are required for life-giving processes. These properties are brought about by the hydrogen-bonded environment particular evident in liquid water.
In nature, water flows freely on the surface of the planet, or underground through natural courses. By friction with the natural rocks it acquire charges, and dissolves minerals. We, humans, collect water by pumps and force it through straight copper pipes, loading it up with various chemicals to kill pathogenic microbes in it (because they thrive when water stands still). The high pressure of the pumps also destroys the structure of the water.
Natural water also collects subtle energies from the earth and nature, beneficial to living organisms. Tap water is dead water.
Magnetism Alters the Properties of Water
There is plenty of scientific research and documents that show that water exposed to magnetic fields, or magnetized water, undergoes certain physical changes; and that this magnetized water has a beneficial effect on soil quality, the growth, production, quality and quantity of crops, and that its has several beneficial effects on livestock, or laboratory animals.
When there is variations in the results, this is the result of the way the experiments are conducted also plays a role. Some researchers use exposed the water to permanent magnets, others to electromagnets; some let the water sits in the magnetic field for a certain amount of time, others let the water flow through a magnetic field. Duration of the exposure also plays a role.
Although the physical changes water undergoes when subjected to a magnetic field has clearly been shown in various scientific experiments, scientists still do not understand why this is. In other words, they have not come up yet with a theory how these changes take place.
Water is a Dipole
Some people say that water can be magnetized because it is a dipole. This is a misunderstanding of the physics of water. Water has a strong electric dipole but a very weak magnetic dipole.
Electric Dipole
An electric dipole refers to the separation of charges within a molecule between two covalently bonded atoms (a bond where the electron pair is shared between the two atoms ) or atoms that share an ionic bond. A water molecule (H2O) is an electric dipole. The oxygen side of the molecule carries a net negative charge, while the side with the two hydrogen atoms has a net positive electrical charge.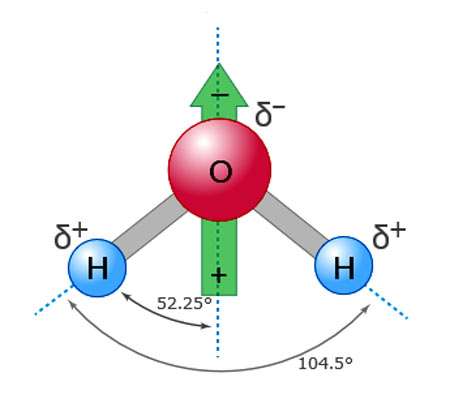 the green arrow shows the polarization of the charge
Although the water molecule as a whole has no charge, the parts of it, the hydrogen wings and the oxygen body, exhibit individual opposite charges. As an electric dipole, water is attracted to electrically charged objects.
Magnetic Dipole
Water is a diamagnetic material. This means that it is composed of atoms that have no net magnetic dipole moment. A magnetic dipole can only occur when there is a closed circulation of an electric current system.
When a diamagnetic material is placed in a magnetic field, a magnetic dipole moment is directed opposite to the applied field and therefore produces a magnetic field that opposes the applied field.
Diamagnetism is a quantum mechanical effect that occurs in all materials; when it is the only contribution to the magnetism, the material is called diamagnetic (no additional paramagnetic or ferromagnetic effects). Diamagnetism is a universal property of the atom since it arises from the motion of electrons in their orbits around the nucleus. The resulting opposing magnetic field is usually very weak. A frog (consisting of 75% water) can be levitated above a superconductor but the magnetic field needs to be a million times more powerful than the Earth's natural magnetic field. The water molecules of the frog are repelled from the applied magnetic field, and they produce a magnetic field in the opposite direction.
So, holding a magnet next to water will produce a diamagnetic field in the water, but of a very weak strength.
The following changes in water has been observed by scientific experiments. It is only a short summary to give you an idea that these changes are indeed real.
Surface Tension
Surface tension in magnetized water is reduced by 10-12%. Therefore it's penetration into cell wall would be facilitated which can accelerate ordinary diffusion of water that is vital for growth of different organs in living beings.
Another study found the surface tension of water to rise by 2% at the magnetic field of 10 T. They concluded that "As for artificial effects and possible contributions to the surface tension increase, it seems most likely that the stabilization of hydrogen bonds increases the bulk Helmholtz's free energy, at least at the surface, which thereby increases the surface tension."
If it makes it any clearer: the Helmholtz free energy (or Helmholtz energy) is a thermodynamic potential that measures the useful work obtainable from a closed thermodynamic system at a constant temperature and volume.
Refractive Index
The magnetic field increases the strength of hydrogen bond, which leads to increasing in the refractive index.
PH
Normal water has a pH level of about 7, whereas magnetized water can reach pH of 9.2 following the exposure to a 7000 gauss strength magnet for a long period of time.
When distilled water was used, no PH change was noticed.
Solubility
The solubility of air in seawater is reduced by 15% under reduced magnetic field (20 μT) compared to normal field conditions (50 μT). The magnetic field effect on CO2 solubility is twice as large.
Mineral Content
Exposing of water to strong magnetic fields affected the mineral content of water.
Water solution passed through a magnetic field acquires finer and more homogeneous structures, which increases the fluidity and dissolving capability for various constituents like minerals and vitamins.
In other words, magnetized water carries more of those substances into living beings and to their cells.
Evaporation
The evaporation amount of magnetic water improves significantly, up to 39%.
It is thought that magnetic fields causes changes in the hydration shells of the water ions .
Boiling Point
One research found that magnetizes water had a boiling point of 2°C lower.
There is great interest in the effect of magnetized water on plants because of the growing of crops, our food source. The following is also just an overview of the research. Details can always be found by consulting the papers (see links below).
Magnetic field pretreatment of seeds already has a positive effect on the germination of growth of the plants. Irrigation of magnetically treated water enhances the effect.
There is an increase in the growth of plants and their photosynthetic pigments (these capture the light energy necessary for photosynthesis).
Increase in
total carbohydrates and total protein content of the plants.
in elements concentration, that is, they contained more nutritional elements, for example, calcium, iron, potassium and zinc, also in their seeds.
the acceleration of seeds metabolism.
the yield of crops.
in the number of fruits and leaves of the plants, and an increase of the weight of the fruits.
the number of pods per plant (bean plants) and reduction of plant losses per unit area.
Positive impacts on root, stem and leave growth.
Stimulation of the shoot development and increase of the germination energy and fresh weight.
Experiments on animals have shown that magnetized water has therapeutic effects on their bodies, especially on the digestive, nervous, and urinary systems.
There is an increase in milk production, mutton, and wool in sheep.
Increasing in milk yields in dairy cows.
More weight gain in geese.
More egg production and hatchability in turkey.
Regulating of blood glucose homeostasis in mice.
Farm animals lived longer.
Bone density of rats, and bone repair increased after 25 to 45 days of drinking magnetic water.
Other experiments on rats showed that there was less diabetic kidney damage with magnetized water consumption. In addition, blood sugar was reduced and antioxidant defenses were increased. Cholesterol and triglyceride levels were almost normalized.
It is logical that the many health benefits of magnetized water on animals would also apply to humans. The few experiments on humans has indeed established the health benefits, although the conclusions have been carefully worded as to not upset the medical establishment which can't profit from such a cheap treatment.
The following quote is from a scientific paper, whose authors based themselves on 71 scientific publications. I limited the quote (from the abstract) to the effects of magnetized water on humans). You can find more details in the paper itself.
Magnetized water has been found effective in alleviating colds, coughs, bronchitis, all types of fever and more, arthritis pain, reducing blood pressure, recovering quickly from a stroke, and it helpful in the regularization of women's menses. Also, treatment with magnetic water was very effective in breaking up kidney and gall bladder stones into small particles. The water also prevented further formation of stones in the kidneys and gallbladder. Magnetic water may prevent aging and fatigue by increasing the cell membrane permeability. Effectiveness of magnetized water in the prevention and treatment of atherosclerosis has been shown in some animal and human studies. It has been reported that magnetic water help unclog the arteries and veins of deposits of cholesterol and salts and normalize the circulatory system. Also, magnetized water can be helpful in weight control, as an adjutant to a correct diet because this water improves metabolic activity, it may be helpful in burning up excessive fatty tissue. (Biological Effects of Magnetic Water on Human and Animals, by Shaban Ali Ebrahim and Azab Elsayed Azab, at the Department of Physics, Faculty of Science, Alejelat, Zawia University, Alejelat, Libya)
Two more quotes of the same paper on page 3:
There was a report of people resolving bladder problems, recovering quickly from a stroke, alleviating arthritis pain and reducing blood pressure by drinking magnetized water.
It has been reported that magnetic water help unclog the arteries and veins of deposits of cholesterol and salts and normalize the circulatory system. Magnetized water has been found effective in alleviating colds, coughs, bronchitis, all types of fever and more, and it helpful in the regularization of women's menses.
The following text can be found on many internet sites, all copied from each other. Nobody seems to know what the original source is. I an giving it here in case there it is based on real experiments and treatments. You decide for yourself:
Magnetized water was first used in Russia by three specialists: Drs. G. Gerbenshchikow, I. Shetsov and K. Tovstoles, all three specialists in urology at the Kirov Military Medical Academy in Leningrad. They had their patients drink bi-polar magnetized water. This simple treatment was very effective in breaking up kidney and gall bladder stones into small enough particles to be passed through urine without any pain or danger to the patient. The water also prevented further formation of stones in the kidneys and gallbladder. Soviet physicians have been giving internally magnetized water to patients for over 30 years for digestive, urinary and nervous problems, ailments like mastitis, pains and swellings, painful urination and many other disorders. Because magnetized water is wetter and therefore more penetrating, it furthers better assimilation of the various nutrients and vitamins in the cells. The Soviet biologist Kumarov had experimentally doubled the life span of flies by feeding them magnetized sugar.
In the scientific experiments listed above, and of which you can find the reference links below, they use different ways of magnetizing water: electromagnets, permanent magnets, letting the water flow along the magnets or letting the water sit for a certain time in the magnetic field. The strength of the magnetic field also varied.
For ordinary, everyday use, you can use static magnets. They come in all sorts of forms and shapes: disks, cylinders, blocks, rings. They can be bare, epoxy coated, plastic coated.
A lot of people will ask if it is important what magnet pole faces the water. The very few scientific experiments have shown that there is no difference between the effect of north or south magnetic pole on living systems. There are a lot of unsubstantial claims being made in the field of alternative healing. It is generally assumed that the north pole of a magnet is strengthening to the human body and the south pole weakening. I also found the opposite to be claimed.
In all the above scientific experiments of the influence of magnetic fields on water, there was never a consideration of using north or south magnetic poles. It was never mentioned. In some experiments the water was flowing alongside the magnets, exposing the water to both magnetic poles.
In case it is important to you what pole is facing the water, you need to know that most magnets are axially magnetized (see picture below), but there are also magnets that are diametrically magnetized (the poles are on the sides of the magnet).