The Illuminated Tarot

Click on the banner to go to ALL the Illuminated Tarot versions.
Our most popular version is Starlight !
You can also download our free Illuminated Tarot Screensaver right here!
---

Glitter Decks and more!
---
Divine Sparks of Light Museum Gallery
---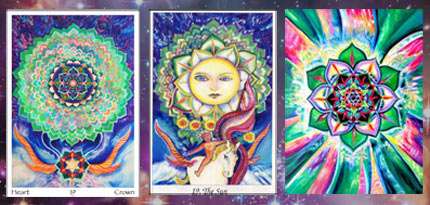 includes Chakra Mandala, Chakra Arcana and Chakra Energy cards
by Carol Herzer
Highly charged energy paintings of the chakras, including Chakra Mandala, Chakra Arcana Tarot and the 7 Chakra Energy Cards.
---
Astrology and Tarot Deck
by Carol Herzer
A visionary deck originating in the 1960's and 70's, this 56 card deck combines astrology and tarot in a new way. An excellent tool for readers who want to include astrology in their readings. There is a full major arcana, all of the court cards, four aces, and instead of the 1-10 minors there is only one sequence, of the aspects. This deck works especially well along with using the natal chart, or just ephemeris, transits and compatibility relationship readings. Straightforward and clear, includes all of the fundamental parts of astrology as well as fundamental tarot structure.
---

Spirit Speaks
Cards for meditation and divination. Go to my page for the selections offered.
Here is a video showing some of the cards.
---
Major Arcana Decks:
Major arcana decks can be used alone for readings or to supplement a reading with other larger decks. Most majors decks are 22 cards, however some here are 20 or 24 cards.
by Carol Herzer.

A visionary tarot with it's roots in the the 60's, related to the Astrotaro.

Painted by Carol Herzer.

A beautiful much loved edition of the traditional Wirth deck major arcana. Oswald Wirth only created a majors deck, it is valuable to all who seriously study tarot.

A beautiful deck with subtle colors, painted by Carol Herzer, original images conceived by Suzanne Kloster, a French artist in the mid 20th century.


by Carol Herzer

A simplified and expressive major arcana, originally an etching, then painted. This was her first Tarot creation, the inspiration for the Cosmo Meditations and Astrotaro.

Drawn and conceived by Guido Gillabel, painted by Carol Herzer.

A deck based on the egg form and inspired by the Philosophy of the Holy Trinity. Comes with booklet by Guido.

Pictogram Tarot

by Dirk Gillabel

If you are a collector, or just like the Pictogram Tarot, I still have a couple of copies left for sale. Go to my WordPress site.

To order, first send me an email and tell me your SHIPPING LOCATION and the VERSION AND SIZE of the deck you want.
If you are outside the USA PayPal is required. I accept both PayPal and checks for USA orders. You can not order directly from our site. For all PayPal payments I will send you an invoice after the order is confirmed by personal emails. All prices are in US dollars and payments must also be in US dollars, USD.
I combine shipping on multiple item orders if possible. Shipping in the USA is by priority mail with insurance.
For orders outside the USA Express Mail is required due to security policies of PayPal. Check with me as to the cost of that.

Questions? Email us at sun19@earthlink.net
---
Answers to all your tarot questions.
---
The Temple of Human Knowledge: An old text from the Mystic Rose, describing the major arcana of the Taro in an oriental mystic way. A Dervish is visiting a tower with 22 chambers.
---
Our free High Priestess Screensaver: 9 High Priestesses from our different tarot decks. Size: 1070 KB; runs on any Windows 95 and later, PC. Download High Priestess.exe.
---
Visit the page of Guido Gillabel's Tarot Museum in Mechelen, Belgium!