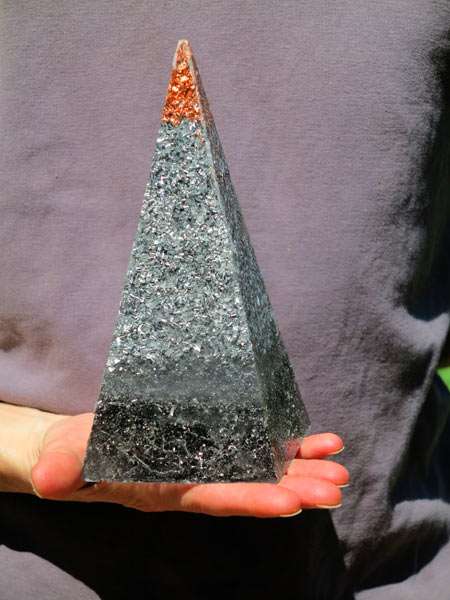 orgonite pyramid
I strongly recommend that you read my Customers Experiences page. There is no better proof than what my customers have reported to me how orgonite has changed their lives! They definitely have strong benefits.
Here I will give you my initial experiences when I started making orgonite several years ago. My first orgonite device had a two gallon base of orgonite with standing metal pipes anchored in it. I prefer to call it a Harmonizer because I feel that this device has a harmonizing influence upon its environment. The commonly used term is cloud buster, cloudbuster, or chembuster. When I put the Harmonizer in the garden, I noticed that the environment gradually changed for the better. This is a subjective observation, but I noticed that the air felt clearer, more laden with vital energy. Some of the vegetables in the garden which had been growing poorly in past years, improved tremendously. One year, the bean plants totally enveloped the harmonizer. Lots of bean production too. One day, a friend, who has psychic gifts, came by. She said that the Harmonizer was giving of tremendous positive energy. Also a neighbor who has intuitive awareness and who didn't know I had made the harmonizer said to us that she had felt a strong positive change in the energy of the neighborhood. She was wondering where it came from.
I started giving orgonite products to friends, acquaintances, and email contacts who gave me some interesting feedback. Two of my contacts have reported that since they put my orgonite cones in their house, the number of spirits that used to bother them was drastically reduced. Both of them were psychics who who can see and feel spirits/ghosts.
When I visited another friend, who is a wholesaler of crystals, I gave her an orgonite cone. She had no idea what orgonite was. She was holding it in one hand, then she put it on the table. She was astonished that she was still feeling an after-image of the cone on her hand, like the energy of the cone was still present on her hand. This had never happened to her before.
Another woman, an artist and energy sensitive, held one of my orgonite cones in her hands and meditated on it. She said unlike other objects, the orgonite cone calmed and centered her.
A friend who brought a cone into her house noticed that her neighbor's nasty behavior toward her immediately stopped. Some people are very sensitive to other people's energy and can get badly affected by it. A customer, who could even feel the neighbor's energies entering her apartment, reported that since she put one of my orgonite disks in her room, these invasive energies stopped entering, and in whatever room she brought the disk, she was unaffected by the neighbor's energies.
I went to my chiropractor-healer, also a sensitive person. I had brought an orgonite cone with me as a gift for him. He told me that the moment I came in the room with the cone in my hand, his mood, which had been very depressed and agitated because of a divorce he was going through, immediately changed for the better. At that moment he didn't yet know that I was holding an orgonite cone, nor why his mood so suddenly changed.
Another day, I met another friend, a card reader and psychic, in town. He had set up to do readings. I gave him an orgonite disk without explanation. He usually is skeptical about "new age devices". He was feeling it in his hands, and noticed that it had a "wonderful energy". But furthermore, there was an immediate change in his left eye. He was having a lot of problems with this eye, losing part of his vision. He said that by holding the orgonite product, his vision immediately got better, emphasizing "a lot". He was very surprised.
Another friend came by one day, she had problems with ongoing breast cancer. She was scheduled for another biopsy. She didn't know anything about orgonite. My wife took one of our orgonite cones to show her. The moment the cone entered her energy field or aura, she said "Oh, what is happening, I feel all these little pricks in my breasts." She had not even time to notice the cone my wife was holding out towards her as they were engaged in a conversation. Of course I am guessing here, but it is my opinion that when the orgonite entered her energy field, it immediately transformed the DOR, or the negative stuck energy spots in her breasts that were associated with the cancer nodules.
We sent some orgonite products to a lady in Texas, who is strongly psychic. She reported that when she carried the orgonite egg, it calmed her down, and she even didn't scream at the kids. She was able to handle the kids in a calm way, a big change for her. Her two kids, who also show signs of being psychic, had nightmares every night, and were very restless when they slept. but now, ever since they put an orgonite disk under their pillow, the nightmares have disappeared and they sleep much more peacefully. The lady also said that paranormal activity in her house had quieted down significantly.
Another lady gave an orgonite piece to an 'adult child': "The one adult child who still lives at home has started laughing and smiling in her frequent sleep "wanderings", rather than being startled and fearful. I think this definitely is being helped by the orgonite under her pillow."
A lady from Hawaii whom I sent an orgonite pendant to, told me that it helped her a lot. She had electro-sensitivity. People who are electro-sensitive get strong reactions and feel sick when they come close to electric devices, such as a TV or computer. After a week of wearing the orgonite pendant, she started feeling so much better. She also told me that when she sings the HU sound, her orgonite cone gets activated and blocks EMF for her. Furthermore, she found the orgonite eggs working better than other shapes. It seems that that the egg shape contributes to the overall effect. I think the egg shape might help shield the aura against harmful outside influences, as the aura has itself an egg shape. Probably, it is a question of resonance between the two. "I've one copper egg top of my lap top - it's sort of in the way due to the size but it stops the machine from zapping my hands with sparks - oh so nice."
A neighbor told me that the orgonite pendant I gave her is helping her against the radiation from the recently installed smart meter. Smart meters give of continuous pulses of microwaves. Microwaves, of any origin, are irritating to the biofield (which is the orgone or life field, or aura) of the human body. Orgonite strengthens the biofield, by which one becomes more resistant to the onslaught of ever increasing microwaves in our environment.